My oficial name is Jiří Kubrt, but also I'm known under nick Bubrák. They started to call me this way in end of the 1st grade on high school (I don't actually know how this name has arised) and this nick remains on me till nowadays. In the year 1996 I started studying at CTU (Czech Technical University) Faculty Of Electrotechnical Engineering (in Prague), where I found internet. The first communication service i have found was BBS Liane, where I 'live' till today. I always exist on Mageo and MKF (e-mail conference about bikes).
Bikes are my hobby from my age of 13 (1991), when my father bought me an old Jawa 350 type 360. In year 2000, I bought Suzuki GSX-R 750. My really big dream became real. I also love to compose music on PC in IT format, I like to play football and other ball-games. I can't forget programming, playing PC games and long discussions about religion on the services I mentioned above. In year 1991 I was baptised as Jehovah's Witness and I want to defense my faith.
In summer holidays 2000, i worked at THD, from September I'm at SAI Bohemia. I need money for gas for my bikes. :-)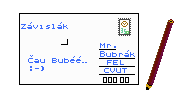 ICQ: 9813416
My English has holes, please write me, if you find some bugs. Thanks.